OUR ORIGINS AND LEGACY
We are the Thakar tribe of state of Maharashtra. Thakar community is considered to be a scheduled tribe with a population of 2000 and the same is sub-divided into thirty six (36) sub-castes or group-castes (Sub-caste is also known as Jamat).
Many individuals from this tribe were craftsmen of one type of the other. The main occupation was to move from village to village and entertain people. Many of them used to work as spies of rules and especially during the reign of Maratha Kings, they were very active. Under the pretext of narrating episodes from Ramayana and the Mahabharata through pictures, puppets and other visual aids they used to establish closer contact with the people, in order to extract political secrets and to furnish such information to the village heads.
They were granted lands by the rulers for the livelihood so that they could carry on this work without difficulty. Later when the royal patronage were discontinued, people of the tribe opted for several petty occupations such as fishing, laboring in fields, cultivating their own small piece of land or wandering to demonstrate their crafts. A few individuals belonging to the earlier generations were puritan and they opted for the Varkari cult. That is, they were devotees of Vithoba of Pandharpur, so used to travel upto Pandharpur and back on foot once every year.
The language they used for narration is Marathi, which they are said to have learnt from the Brahmins. They also have learnt Puranas like Harivijay, Ramvijay, Bhagwat Puran, Pandav Pratap etc. they make use of the musical instruments like tuntune, tal, ekatari etc., as accompainments to their narration. This narration is mostly lyrical.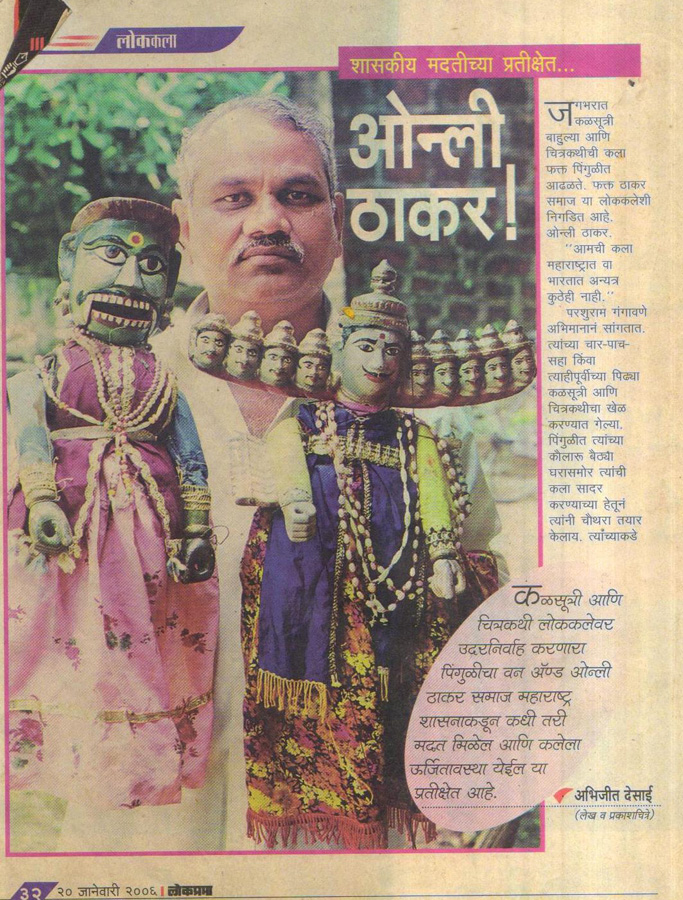 THE MAN BEHIND TAKA.
Shri. Parshuram Gangavane founded TAKA museum & art gallery in the year 2006, which showcases Thakar Tribal folk Arts of Sindhudurg district.
A Pioneer institute for training in Chitrakathi style of Painting of Maharashtra, the art itself is more than 400 years old. He took upon himself a task of revitalizing this art even at the International level. He also carried out many Workshops,?Exhibitions & Presentation programs across India. More than 1000 students & Research Scholars have been skilled so far by him and his two sons.
Under his guidance, his sons, Eknath & Chetan Gangavane are also contributing towards the development of Chitrakathi Paintings and to preserve the Ancient art form of Pinguli.
He founded Vishram Thakar Adivasi Kala Aangan Charitable Trust in 2007, with a vision of conserving age old Thakar Tribal and Folk art and spreading it to various parts of the country and overseas. Through this trust, he accepts, donations from Samaritans all over the world, who would like to lend a hand in helping him carry out this wonderful work.
His trust has conducted various Health & Social awareness camps for HIV, Cancer, Polio, Child abuse etc. They have also contributed towards Prime Minister's Swacha Bharat Abhiyan on a grand scale.
Through this trust, Mr. Gangavane, conducts various training classes for schools, colleges and for art lovers too.
Our passion for art in numbers
400+
Art visits at Pinguli per month
300+
Exhibitions attended